#VanLife Feature Interview
#VanLife Feature Interview
Posted on November 10, 2021
It's no secret that at Get-Away RV, we are passionate about helping our customers live out their #VanLife dreams. We often feature the early stages involved with adopting the RV lifestyle, including things like selecting the right RV, financing options, van conversion services, RV maintenance - you know, practical considerations that are vitally important! But what about the after? After your van has been converted, after you've been on the road, after the adventure has begun?
We were fortunate enough to have a chat with Brittany MacIntyre, a #VanLife enthusiast who took the plunge and embraced the call of the open road. After taking on her van renovations as a DIY project, Brittany started travelling in her '88 Roadtrek and has never looked back. In this feature interview, we asked Brittany to share her van-conversion story, and give us a first-hand look into the before, during and after stages of adopting the #VanLife.
1. What was the catalyst for deciding to embark on this adventure?
"I was travelling through the mountains when I initially thought 'wow, it would be such a dream to travel in a tiny home and see the world.' I started to see a lot more #VanLife content on social media and thought 'okay this is definitely what I need to be doing.' It took me almost two years to finally find something that felt right and feel good for a project I wanted to take on!"
2. Did you purchase a van that was already converted, or did you take on a DIY project yourself?
"I have a 1988 Roadtrek Versatile. The good thing about Roadtreks is that they're already pretty much converted with all the key amenities you need. My Roadtrek is older, so I gutted most of it but kept the original layout. I ripped out the walls and door panels, put in new insulation throughout, new lights, new countertop, new flooring, new speakers plus I upgraded the deck with Bluetooth, redid all the cupboards, put up fresh paint and made new door panels - to name only a few upgrades! I also had to work with a mechanic on things like replacing spark plugs, brakes and oil. After finishing the build, it was definitely a sigh of relief, but also a bit emotional. I felt so attached to the renovations and truly loved doing them daily. It became my norm!"
3. So what key amenities do you have on board?
"I have a fridge, toilet, microwave, 2-burner stove top, outdoor shower and a bed, which is just a little bigger than a double. In warmer months I have an outdoor BBQ with a pull-out awning. My propane powers the fridge, furnace and stove-top, and needs to be refilled about every other month. I would consider space a key amenity, so I took out the original two back seats and built a lounge couch with lots of storage underneath."
4. Do you travel alone? Or with a partner, friend or pet?
"I travel alone. I always have, and I think I always will. I like going at my own pace, and I enjoy my own freedom while doing it. A lot of vanlifers have pets, and the thought of getting a little companion has crossed my mind, but I'm still unsure about having a pup in the van."
5. What do you consider your onboard "essentials" - both for legitimate daily life, but also for fun!
"If I'm not plugged into shore power, I use my Jackery Charger quite often, which is a non-gas generator that I power from solar energy. I use it to charge my phone, camera, some cooking utensils, etc. Another gadget I use quite often is my headlamp - I do have lights in the van, but some places, like my cupboards and storage space, are dark and a headlamp definitely comes in handy."
6. What types of food do you eat while you're on the road?
"My meals vary based on what I have in the fridge. I try and cook up meat first, so it doesn't spoil, and I try to always keep a piece of steak (guilty pleasure!) in my fridge. Bacon, eggs, a jar of pickles, lots of rice and salad are items that I also always have in my fridge or cupboards. If I'm feeling unmotivated to cook a full meal, then my go-to is usually Kraft Dinner, Mr. Noodles or soup - quick & easy one-pot meals with minimal dishes to wash!"
7. Do you pre-plan where you'll sleep and stay, or is it more spontaneous?
"I'd say it's 50/50. I like to keep it spontaneous, but sometimes when I'm going into a new city or town I'll look up options for where I can park & stay safely."
8. How do you find places to park and sleep for either option?
"I use the iOverlander App, which I love, and I also use the website 'freecampsites.net.' Both are great resources for finding parking and sleeping options. Previous dwellers will leave comments and pictures about their stay, and I've always felt safe using it. I've also recently joined Harvest Hosts, which is a resource solely for RVers to stay overnight at wineries, breweries, farms, etc. all over North America for a unique experience."
9. What types of set-backs have you had on the road, and how did you overcome them?
"Knock on wood, but I haven't come across any setbacks yet! When I was on my way back from up north, my speedometer cable broke. So right now both my speedometer and odometer aren't working, but I wouldn't call it a major issue."
The thought of purchasing another van and/or tiny home to build-out is definitely in my near future. The project on its own was a beautiful adventure.
10. Did you have to teach yourself some basic maintenance skills? What types of things are you comfortable fixing yourself?
"I feel pretty comfortable fixing and doing everything myself, and if I don't know how to do something, a YouTube video is just a click away! The first thing I was taught when I bought a vehicle was how to change a tire and change oil - those skills will always come in handy."
11. Do you travel all year, or only in the warmer months? If you travel 365 days, do you have any tips for managing the winter?
"I am currently living in my van, but since COVID hit I haven't been travelling. I'll do the odd weekend and day trips here and there, but I'm waiting for these rolling quarantines to end, so that I can hit the road and feel comfortable about doing so. This is my first official winter in the van, and I am learning along the way. One thing I have learned is to invest in good window insulation! My other tips would be to insulate the flooring, have some thick good slippers, and a heated blanket works wonders on those cold nights."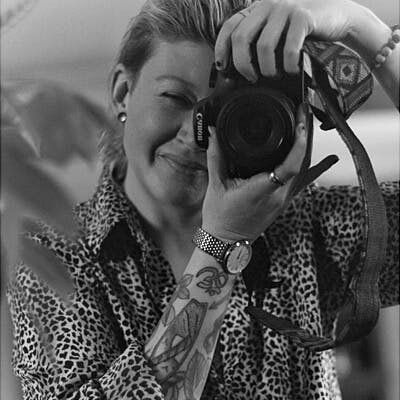 12. Most #VanLifers take amazing photos - do you have a professional camera, or have you learned about photography as a part of your journey?
"I have a Canon T6 camera. I haven't mastered the professionalism of taking great photos yet, but I'm learning along the way!"
13. Speaking about your journey… where have you travelled? What routes and destinations have you loved? We'd love to hear a few highlights from the road!
"During the pandemic, I've only stayed in Ontario. I went up north for the first time with the van, which was gorgeous, and did a little tour around Southwestern Ontario stopping at little towns I've never heard of along the way. I've also backpacked through the West Coast and the East Coast of Canada multiple times, and spent a few months backpacking through Europe. Staying stationary isn't for me!"
14. Are there any hobbies you've been able to explore while travelling?
"I'm always looking for the next hiking trail! But on those rainy days in the van, I've picked up playing the Ukulele and guitar. I've also been reading a lot more!"
15. Do you picture yourself continuing to live the #VanLife? What does your near future hold?
"I can't see myself being or doing anything else right now, or in the near future. I love the minimalist lifestyle, and I wouldn't trade it for anything. I believe that you don't need much to be happy in life, and this is pure bliss to me. The thought of purchasing another van and/or tiny home to build-out is definitely in my near future. The project on its own was a beautiful adventure."
16. Are there any additional tips or tricks that you'd love to share with folks who are about to take on their first van conversion?
"My advice for someone who is thinking about joining the #VanLife revolution is to start by renting an RV or van for a weekend, week, or month. Bring whatever clothes and necessities you think you'll need, and pretend to live the #VanLife for that time. A lot of people like the idea of it, but when they actually start living it out they realize it's not for them. Before putting so much time, energy and money into something that might not be the right fit, try it out first.
I would also stress to anyone who is starting their build to have patience and enjoy the waves! When I first purchased my van, my plan was to be on the road in a couple of months. That "couple" of months lasted for 9 months! So take your time and don't rush it. Enjoy your dream, because you've got nothing but unlimited road ahead of you."
Interested in Experiencing Your Own #VanLife Adventure? Talk With the Experts at Get-Away RV!
Whether you've just started following #VanLife accounts on social media or you're already knee-deep in building out your van, Get-Away RV is the Lower Mainland's most trusted source for all things related to van conversions. We can help with as much, or as little, as you'd like throughout your project, and are here to offer our experience and expertise every step of the way. If you'd like to chat more about Brittany's story or explore your own van conversion options, don't hesitate to contact one of our Get-Away RV team members today!
If you want to continue to follow Brittany's #VanLife journey, be sure to follow her on Instagram for all of her latest updates!